Welcome to this Web site for the Illinois State Poetry Society, connecting ISPS members with each other and with the general public. Here you'll find information for and about this group of serious poets. Since June of 2000 we have been posting bimonthly editions of poetry written by ISPS members. All ISPS members are invited to submit a poem each two-month period. (How and when to submit) You are invited to read the ISPS member poems posted in April 2014 as well as previous postings.

To join ISPS through June, , please fill out our Membership Form and mail it with a check for $20.00. You don't have to be an Illinois resident to join ISPS, but you do need to be an ISPS member to have your poems posted in this Web site.
---
Upcoming ISPS Meetings
---
A Message from the President, March, 2014
by Susan T. Moss, ISPS President
Several subjects have come to mind as I considered what to discuss for this issue of the ISPS newsletter. Updates of ISPS activities and accomplishments are noted as well as a few comments about poetry.
I am happy to announce that Illinois State Poetry Society now has official archives which have been compiled and sorted by Carolyn Jevelian and me. These are housed at the Northbrook Public Library in the reference section and may be perused on location. Although our society goes back many more years than when we were chartered at the National Federation of State Poetry Societies convention in 1991, historical records have been found for about only the past twenty or so years. The collection will be regularly updated, and I invite anyone who has old ISPS-related material to contact Carolyn or me.
This year there are several libraries where members' poetry will be displayed during April Poetry Month. A couple of libraries have invited us to show poems in May due to conflicts for space. Please consider sending two poems to Sheila Kirscher as described in the mailing sent out to members. So far, participating libraries include Wilmette, Winnetka, Highland Park, Glenview, Hinsdale, Indian Prairie, Aurora, Pontiac and Carbondale.
Illinois State Poetry Society will be offering a chance for members to sell their books at the Poetry Fest held at the Harold Washington Library on April 26. Bring your publications for display on a table in the lobby.
Watch for other announcements about reading opportunities and writing workshops sponsored by ISPS. The Brewed Awakening is an ongoing and popular venue to share your work.
With so much competition among thousands of poets trying to get into hardcopy journals, you might want to try some other venues to share poetry with the world. The internet offers various sites, and one of them is Your Daily Poem (YDP). Go to www.yourdailypoem.com and read some of the archived poetry to see if your work fits. This site is read by people in many parts of the world and can be a fun way to get published if chosen. Another source is to submit previously pub- lished work to littleeaglereverse.blogspot.com and if accepted, it will be shown with accompanying art of your own or publisher's choice. One more suggestion is A Year of Being Here at www.ayearofbeinghere.com/ for a more meditative genre. These are just a few examples of electronic sources for sending out your poetry.
Happy writing,
Susan T. Moss
stm48@hotmail.com
"Last Sunday" Reading, April 27, 2014
The next "Last Sunday" reading will be at Brewed Awakening, 19 West Quincy (across from the train station), Westmont, IL on Sunday, April 27, 2014, 12:30-2:00 PM. There will be an open mic. Cover charge of $7.00 includes coffee and a snack. The readings are sponsored by the Illinois State Poetry Society and Brewed Awakening.
Join us for "Hat Trick Poetry." Upon arrival, each participant can put one theme or the name of one poetry form on a card and put it into a hat. When a card is drawn, anyone who has brought a poem related to that theme (or in the named form), gets an opportunity to read it. Bring with you a lot of your own poems so you can participate.
Order Distilled Lives, Volume 1, ISPS Poetry Anthology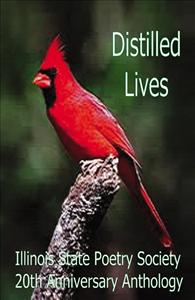 Seventy-five members of Illinois State Poetry Society have, as their 20th anniversary anthology's title promises, distilled life with its vicissitudes and revelations. Poems weave universal themes in rhyme and free verse while presenting fresh, provocative and sometimes metaphysical insights. Humor, pathos, reverie and existentialism, among other diverse tones, combine in this entertaining and insightful collection.
Sneak Peek
To Order
Contact Us
If you have questions or feedback regarding this Web site, please click a link below to send an e-mail to a member of the ISPS Web Committee. We welcome your thoughts.
Alan Harris
Larry Turner
William Marr

Web site design and maintenance by Alan Harris at