Home Page
Poetry Competition
ISPS Member Poems
Poem Index by Poet
Poem Index by Title
Poet Bios
ISPS Member Books
Submitting Poems
About ISPS
To Join ISPS
Guestbook
Other Sites
Benefactors ($50)
Bruce Amble
Michael Eddie Anderson
Tim Breitzmann
Robert Coté
Georgiann Foley
Jim Lambert
Pam Larson
John Li
Usha Mahisekar
James Reiss

Patrons ($30)
David LaRue Alexander
Ann Carlson
Christine Cianciosi
Joan Colby
Joe Glaser
John Gordon
Larry Hays
Dan Kenny
Sheila Kirscher
Tom Moran
Ina Perlmuter
Marcia Pradzinski
John Quinn
Jenine Ravesloot
Marjorie Rissman
Tom Roby
Ryan Sauers
Nancy Schaefer
Irfanulla Shariff
Judith Tullis
Gail Vescovi

In Memoriam
Sally Hanson Calhoun
Nancy Jean Carrigan
David Christensen
Don Cornwell
Patricia Gangas
Chris Holaves
Martha S. Moss
John Pawlik
Paul J. Wolf, Ph.D

Welcome to this Web site for the Illinois State Poetry Society, connecting ISPS members with each other and with the general public. Here you'll find information for and about this group of serious poets. Since June of 2000 we have been posting bimonthly editions of poetry written by ISPS members. All ISPS members are invited to submit a poem each two-month period. (How and when to submit) You are invited to read the ISPS member poems posted in October 2014 as well as previous postings.

To join ISPS through June, , please fill out our Membership Form and mail it with a check for $20.00. You don't have to be an Illinois resident to join ISPS, but you do need to be an ISPS member to have your poems posted in this Web site.
---
Upcoming ISPS Meetings
---
A Message from the President, October, 2014
by Susan T. Moss, ISPS President
After recent travels through Spain, I am again reminded that poetry is everywhere: in art, architecture, the written word, the grace of a flamenco dancer, the scent of orange groves and so much more.
The windmills Miguel de Cervantes Saavedra's Don Quixote saw have been replaced by steel giants lining ridge tops from San Sebastian to Barcelona. However, the place Washington Irving evoked, with romantic and historical lyricism in Tales of Alhambra, still looms with fortress grandeur.
It's a land of olive trees and marigolds, Sierra Nevadas that are wrapped in a mantilla of sunshine competing with a full moon at night tiptoeing through bell towers punctuating the Sevilla skyline, a place of Inquisition and civil war, sacrifice and passion.
As a painter and sculptor, Joan Miró of Barcelona was greatly influenced by the poetry of Spanish mystics. He felt, as many poets do, that our creative endeavors have to engage in works that transcend "human and collective effort." Miró's paintings often have poetic titles such as The Smile of a Tear and The Lark's Wing Encircled With Golden Blue Rejoins The Heart of The Poppy Sleeping on The Diamond-Studded Meadow.
Federico Garcia Lorca's words call from tiles lining a wall in Granada's old city. His poetry and plays were banned by Francisco Franco but again speak to passersby to fully partake of life and live courageously. Jean Ramón Jiménez, another prolific Andalucian poet who died in 1958, also had his poetry immortalized in blue and white tiles – his words another reminder of the many-faceted layers of time and place, memory and inspiration.
One particular connection I made with Miró and Picasso was when I saw photos of their studios. They both immersed themselves in everyday items, found objects like a bone or shell, ideas scribbled on scraps of paper, utensils for creating their art, worn oriental rugs, all seemingly scattered without plan or purpose, designing a place where creativity could incubate and hatch. I knew then that in this little room where I attempt to put my own ideas to paper, I am in good company.
Happy writing,
Susan T. Moss
stm48@hotmail.com
"Last Sunday" Reading, November 30, 2014
Seasonal Poetry will be featured at an Open Mic at Brewed Awakening, 19 West Quincy (across from the METRA station), Westmont, on Sunday, November 30, beginning at 12:30 p.m. Bring poems about winter weather (including winter nature poems), winter holidays (including Christmas, Hanukkah, New Years' Day, and Martin Luther King Day), poems about historic events that took place in December, January or February) and poems about famous people born in one of those three months. There will be small prizes in each of the above categories. Cover charge of $7.00 includes coffee and a snack. Bill and Caroline Johnson will provide seasonal music from noon until 12:30. Sponsored by the Illinois State Poetry Society and Brewed Awakening.
Brewed Awakening is not open the last Sunday of December, so there will be no reading December 28.
Call for Poems from ISPS Members Only
The Lemont Center for the Arts has invited the Illinois State Poetry Society to participate in a joint exhibit planned for March and April, 2015. The exhibit will be called Spark 2, reflecting the idea of "one form of expression providing the spark for another."
Artists will submit photos of their work to the LCA. Interested ISPS poets will receive digital photos via email in mid-January 9 (at the latest), and will have 2 or 3 weeks to write poems in response to the artwork. This is the reverse of the process in our joint exhibit of two years ago when the LCA artists created work in response to our poems. This will give us practice in writing what are called ekphrastic poems—poems in response to art. If you participate, at least one of your poems will be exhibited. Only ISPS members whose dues are up-to-date are eligible to submit.
There will be a reception on March 15, 2015, 1-3 PM, at the Lemont Center for the Arts where we will be invited to read our poems and meet some of the artists. You do not have to commit to be present at the reception to participate, but it is hoped that many of the participating poets and artists will attend.
If you would like to participate in this project (or have further questions), please send an email to wildamorris[at]Ameritech[dot]net with the SPARK 2 in the subject line.
Order Distilled Lives, Volume 1, ISPS Poetry Anthology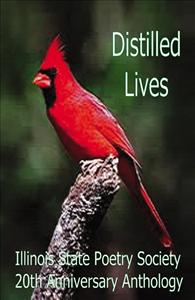 Seventy-five members of Illinois State Poetry Society have, as their 20th anniversary anthology's title promises, distilled life with its vicissitudes and revelations. Poems weave universal themes in rhyme and free verse while presenting fresh, provocative and sometimes metaphysical insights. Humor, pathos, reverie and existentialism, among other diverse tones, combine in this entertaining and insightful collection.
Sneak Peek
To Order
Contact Us
If you have questions or feedback regarding this Web site, please click a link below to send an e-mail to a member of the ISPS Web Committee. We welcome your thoughts.
Alan Harris
Larry Turner
William Marr

Web site design and maintenance by Alan Harris at