Home Page
Poetry Competition
ISPS Member Poems
Poem Index by Poet
Poem Index by Title
Poet Bios
ISPS Member Books
Submitting Poems
About ISPS
To Join ISPS
Guestbook
Other Sites
Benefactors ($50)
Mary Jo Balistreri
Robert Coté
Joe Glaser
Chris Holaves
John Li
Cathy Lou Pearson
James Reiss
Myron Stokes

Patrons ($30)
David LaRue Alexander
William Carey
Christine Cianciosi
Neil Conlisk
Dan Fitzgerald
Georgiann Foley
Marilyn Giese
John Gordon
Lynne Handy
Larry Hays
Katherine Hutchinson
Sheila Kirscher
Jim Lambert
Bonnie Leer
Tom Moran
Ina Perlmuter
Jenene Ravesloot
Marjorie Rissman
Tom Roby
Rick Sadler
Nancy Schaefer
Irfanulla Shariff
Richard Shaw
Judith Tullis

In Memoriam
Sally Hanson Calhoun
Nancy Jean Carrigan
David Christensen
Don Cornwell
Patricia Gangas
Chris Holaves
Glenna Holloway
Usha Mahisekar
John Mahoney
Marguerite McClelland
Martha S. Moss
John Pawlik
Doyle Raymond Vines
Paul J. Wolf

Welcome to this Web site for the Illinois State Poetry Society, connecting ISPS members with each other and with the general public. Here you'll find information for and about this group of serious poets. Since June of 2000 we have been posting bimonthly editions of poetry written by ISPS members. All ISPS members are invited to submit a poem each two-month period. (How and when to submit) You are invited to read the ISPS member poems posted in June 2016 as well as previous postings.

To join ISPS through June, , please fill out our Membership Form and mail it with a check for $20.00. You don't have to be an Illinois resident to join ISPS, but you do need to be an ISPS member to have your poems posted in this Web site.
---
Upcoming ISPS Meetings
---
A Message from the President, June, 2016
by Susan T. Moss, ISPS President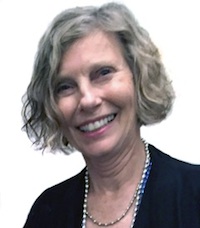 The NFSPS convention in Chaska, Minnesota, ended on June 13 and was filled with several thought-provoking presentations and writing activities. Among those who attended were four of us from Illinois and two at-large ISPS members from other states. Next year the national convention will be held in Texas at the Hilton Fort Worth Hotel from June 29-July 2, 2017.
One of the recent convention options was a panel discussion on "The Craft of Poetry." Although we are already poets, it can be interesting to hear from other accomplished wordsmiths about what makes a poem. Some of the thoughts included the style of how a piece is written, such as staccato or lyrical, and whether it offers a universal theme or one of a more personal narrative. Even in the latter approach, the poem fits somewhere in the human condition but perhaps how is less obvious. Some poets hide in poetry and remain shy with their message while others provide a quicker and more immediate connection. Another panelist's comment was about lying and truth telling in poetry. There is an emotional truth we often consciously or unconsciously embellish, and Wallace Stevens believed that "A poem is the supreme fiction."
One presentation offered suggestions on ways to "Build Your Brand" by getting your name and work out into the world. Other ideas included creating a word wheel to spin new combinations of words for a poem, the benefits of using a small press publisher, and how American poetry often reflects place and our national identity. Another session focused on doing free writes to get potential ideas for a poem. This technique requires that the writer's pen never leaves the paper for at least two minutes, and pausing and self-editing are not allowed.
With much to think about on our own poetry journeys, consider the next ISPS opportunity to appear in our anthology, Distilled Lives Volume 3. The deadline is July 15, and information is available on our website. Also, check your membership status which should be renewed for the next year starting July 1. Last but not least, it is not too soon to start writing or selecting which poems you might want to submit for the 23rd ISPS poetry contest with an October 15 deadline.
As summer drifts forward, may we join in the camaraderie of expectation and grow poems that bloom into potential bouquets.
Happy writing,
Susan T. Moss
stm48@hotmail.com
"Last Sunday" Reading, July 31, 2016
Poets Christine Swanberg and Dave Gecic will be featured at Brewed Awakening, 19 West Quincy (across from the train station), Westmont, on Sunday, July 31, 2016, at 12:30 PM. There will also be an open mic. Cover charge of $10.00 includes coffee (even the special ones) and a snack. The event is sponsored by the Illinois State Poetry Society and Brewed Awakening.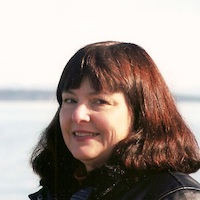 Christine Swanberg has published several books of poetry, including Tonight on This Late Road, Invisible String, Bread Upon the Waters and Who Walks Among the Trees with Charity. Her work appears in numerous anthologies. She has published hundreds of poems in journals such as The Beloit Poetry Journal, Spoon River Quarterly, Amelia, Chiron, Kansas Quarterly, Creative Woman, Earth's Daughters, Mid-America Review, Powatan Review, Midnight Mind, Sow's Ear, Wind, and others. Swanberg's awards include a featured reading at Seattle's Frye Museum through Poetswest, first and second place in Peninsula Pulse, first place in Midwest Poetry Review and the Womanspirit Award from Womanspace. She received a merit scholarship to attend the post-graduate seminar at Vermont College, where she worked with the late Lynda Hull. In addition, several of her poems were selected by the Poetry Center of Chicago for a juried readings. She has edited Korone; Confluence: A Legacy of Rock River Valley; Land Connections: Writers of North Central Illinois. She founded the Rock River Poetry Contest and has judged many contests including Pen Women and Illinois Emerging Writers. She has been a teacher for over thirty years.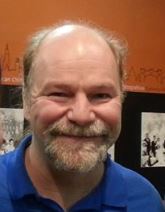 Dave Gecic is the publisher of The Puddin'head Press which started publishing books in 1985. He has been the host of several poetry venues including, Estelle's, The Gallery Cabaret, and The Oak Park Teen Coffeehouse. His writings have been published in anthologies, literary magazines, and technical journals. By day he does science stuff.
Order Distilled Lives, Volume 1, ISPS Poetry Anthology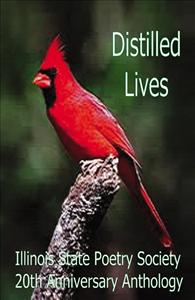 Seventy-five members of Illinois State Poetry Society have, as their 20th anniversary anthology's title promises, distilled life with its vicissitudes and revelations. Poems weave universal themes in rhyme and free verse while presenting fresh, provocative and sometimes metaphysical insights. Humor, pathos, reverie and existentialism, among other diverse tones, combine in this entertaining and insightful collection.
Sneak Peek
To Order
Order Distilled Lives, Volume 2, ISPS Poetry Anthology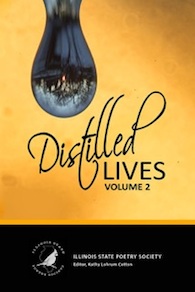 Distilled Lives, Volume 2, is a rich and diverse collection of poetry from members of the Illinois State Poetry Society. Represented in the anthology are new word-crafters alongside poets in their nineties who have been writing throughout their lives. There are first-timers as well as Pulitzer Prize and National Book Award nominee James Reiss and the prolific Joan Colby and Jacob Erin-Cilberto, each with more than a dozen volumes to their credit. You will find formal forms, poems with stylized messages, rhymed lines, and prose-poem paragraphs.The lives distilled here offer a panoply of poetic style and individual creativity, a challenging and comforting gift of words offered by eighty-one representatives of ISPS.
To Sample and Order at Amazon.com
Contact Us
If you have questions or feedback regarding this Web site, please click a link below to send an e-mail to a member of the ISPS Web Committee. We welcome your thoughts.
Web site design and maintenance by Alan Harris at