Home Page
Poetry Competition
ISPS Member Poems
Poem Index by Poet
Poem Index by Title
Poet Bios
ISPS Member Books
Submitting Poems
About ISPS
To Join ISPS
Guestbook
Other Sites
Benefactors ($50)
Georgiann Foley
Timmothy J. Holt
Usha Mahisekar

Patrons ($30)
David LaRue Alexander
David Christensen
Christine Cianciosi
Robert Cote
John Gordon
Larry Hays
Tom Moran
John Quinn
Ryan Sauers
Gail Vescovi

In Memoriam
of Chris Holaves
by Sharon Holaves
Welcome to this Web site for the Illinois State Poetry Society, connecting ISPS members with each other and with the general public. Here you'll find information for and about this group of serious poets. Since June of 2000 we have been posting bimonthly editions of poetry written by ISPS members. All ISPS members are invited to submit a poem each two-month period. (How and when to submit) You are invited to read the ISPS member poems posted in December 2013 as well as previous postings.

To join ISPS through June, , please fill out our Membership Form and mail it with a check for $20.00. You don't have to be an Illinois resident to join ISPS, but you do need to be an ISPS member to have your poems posted in this Web site.
---
Upcoming ISPS Meetings
---
A Message from the President, October, 2013
by Susan T. Moss, ISPS President
The power of poetry should never be underestimated. Recently, the BBC interviewed several veiled women in Kabul, Afghanistan, who meet to recite their poems condemned by warlords. One woman wrote of such things as smoking with a lover and thereby, broke taboos and was forced to flee for her life. These women write of forbidden freedoms commonly embraced by Western cultures and with their poems, they attempt to break down barriers and shift moral judgments.
While most of us are not living behind a literal veil, when we write we too need to cross barriers, whether they be internal blocks or a hesitation to declare truths against issues that threaten society's well-being, for example. Poetry has the capacity to analyze, persuade, initiate, captivate, assuage and entertain, among others. Possibilities are only limited by our imagination and ability to formulate ideas.
When we are complicit in writing what touches us and which insists on being said, personal insights can be revealed. With a willingness to open ourselves to deeper knowledge which we intentionally or unconsciously hide, our poetry can grow in previously unsuspected ways. The process of continually unmasking and experimenting, delving deeper and pushing the limits of self-expression can help us discover our own freedom to communicate. It can be a pleasant surprise to meet a stranger speaking of more than "shoes and ships and sealing wax, of cabbages and kings..." and realize that it is ourselves.
Now that fall is at full throttle and winter not far behind, I wish for each of you holidays filled with peace and joy.
Happy writing,
Susan T. Moss
stm48@hotmail.com
"Last Sunday" Reading, January 26, 2014
Poets will be featured readers at Brewed Awakening, 19 West Quincy (across from the train station), Westmont, on Sunday, January 26, beginning at 12:30 p.m. Cover charge of $7.00 includes coffee and a snack. Other poets are invited to participate in an open mic (bring a variety of your poems). Sponsored by the Illinois State Poetry Society and Brewed Awakening.
Order Distilled Lives, ISPS Poetry Anthology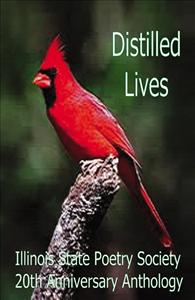 Seventy-five members of Illinois State Poetry Society have, as their 20th anniversary anthology's title promises, distilled life with its vicissitudes and revelations. Poems weave universal themes in rhyme and free verse while presenting fresh, provocative and sometimes metaphysical insights. Humor, pathos, reverie and existentialism, among other diverse tones, combine in this entertaining and insightful collection.
Sneak Peek
To Order
Contact Us
If you have questions or feedback regarding this Web site, please click a link below to send an e-mail to a member of the ISPS Web Committee. We welcome your thoughts.
Alan Harris
Larry Turner
William Marr

Web site design and maintenance by Alan Harris at