Home Page
Poetry Competition
ISPS Member Poems
Poem Index by Poet
Poem Index by Title
Poet Bios
ISPS Member Books
Submitting Poems
About ISPS
To Join ISPS
Guestbook
Other Sites
Benefactors ($50)
Mary Jo Balistreri
Robert Coté
Joe Glaser
Chris Holaves
John Li
Usha Mahisekar
Cathy Lou Pearson
James Reiss
Myron Stokes

Patrons ($30)
David LaRue Alexander
William Carey
Christine Cianciosi
Neil Conlisk
Dan Fitzgerald
Georgiann Foley
Marilyn Giese
John Gordon
Larry Hays
Katherine Hutchinson
Sheila Kirscher
Jim Lambert
Bonnie Leer
Tom Moran
Ina Perlmuter
Marjorie Rissman
Nancy Schaefer
Irfanulla Shariff
Richard Shaw
Judith Tullis

In Memoriam
Sally Hanson Calhoun
Nancy Jean Carrigan
David Christensen
Don Cornwell
Patricia Gangas
Chris Holaves
Glenna Holloway
Marguerite McClelland
Martha S. Moss
John Pawlik
Doyle Raymond Vines
Paul J. Wolf

Welcome to this Web site for the Illinois State Poetry Society, connecting ISPS members with each other and with the general public. Here you'll find information for and about this group of serious poets. Since June of 2000 we have been posting bimonthly editions of poetry written by ISPS members. All ISPS members are invited to submit a poem each two-month period. (How and when to submit) You are invited to read the ISPS member poems posted in December 2015 as well as previous postings.

To join ISPS through June, , please fill out our Membership Form and mail it with a check for $20.00. You don't have to be an Illinois resident to join ISPS, but you do need to be an ISPS member to have your poems posted in this Web site.
---
Upcoming ISPS Meetings
---
A Message from the President, January, 2016
by Susan T. Moss, ISPS President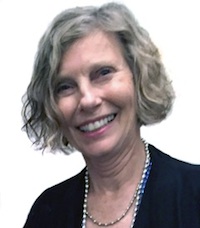 Another year has drawn to a close, and many ongoing and new members have made a commitment to ISPS. We mourn the passing of several members who are listed on our website and look forward to the start of a haiku chapter on February 21, 2016, at the Northbrook Public Library. Some other exciting plans are also underway with more information forthcoming as they evolve.
We often take an accounting of the past year's personal accomplishments, and as poets, our writing is one of those markers of time and intention. It is also an opportunity to consider what might be fresh approaches to writing as well. Here are a couple of ideas that might be interesting if you have not tried them already.
One suggestion relates to a recent Wisconsin Public Radio broadcast of Jean Sibelius's music in celebration of his one hundred and fiftieth birthday. It made a pleasant drive through parts of Minnesota and Wisconsin back to Illinois. The program included sections of his choral symphony entitled Kullervo which was based on the Kalevala, Finland's national epic. He also created tone poems, musical structures usually in a single continuous movement that evokes a poem's content. These pieces were based on mythology and folklore and the music spoke for the original words. Both formats are interesting ways to reinvent our own poetry, perhaps in collaboration with a musician.
Another idea, which some of us have tried or are presently doing, is to write a series of poems that relate to one theme that runs through and informs a variety of these works. Both metaphorical and literal portrayals of the central idea can be applied as well as different forms. Examples of a central guiding idea could be journey, memory, loss, love, beginnings and endings among innumerable other possibilities. Perhaps a whole collection might result or a section of a collection. This challenge can allow for a variety of approaches, opinions and deeper research into self and observation that might not occur with only one poem on a given topic.
May the new year bring you inspiration and peace.
Happy writing,
Susan T. Moss
stm48@hotmail.com
"Last Sunday" Reading, February 28, 2016
Poets Kate Hutchinson and Marjorie Skelly will be featured at Brewed Awakening, 19 West Quincy (across from the train station), Westmont, on Sunday, February 28 at 12:30 PM. There will also be an open mic. Cover charge of $10.00 includes coffee and a snack. The event is sponsored by the Illinois State Poetry Society and Brewed Awakening.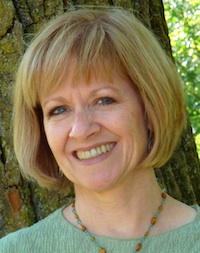 Kate Hutchinson has taught English for 30 years at a large high school northwest of Chicago, and each summer she teaches poetry writing at a local university. Her new book of 50 poems and prose poems centered on the Midwest experience will be released in November of 2015, titled Map Making: Poems of Land and Identity. A chapbook of her poetry, The Gray Limbo of Perhaps, was published in 2012. Kate's poems and creative essays have appeared in dozens of literary magazines and anthologies over the last few years, including Shenandoah, The Sow's Ear, and The Doss Passos Review; she was a 2010 Pushcart prize nominee. Find more of her work at PoetKateHutchinson.wordpress.com.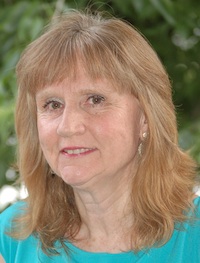 Marjorie Skelly has won first-place in the Poets and Patrons and the Jo-Anne Hirshfield Poetry Memorial awards contests, along with reaching finalist status for the Gwendolyn Brooks Poetry Slam in Chicago and twice reaching semi-finalist status with the Word Works Washington Prize. Various incarnations of her short story "Standing in the Dark with my Family," which appears in print for the first time in this book, were three times given finalist status with the prestigious Glimmer Train Journal, and her short story "Pass the Candied Yams," not in this collection, won second place in a National Organization for Women contest. "Bus Fare," also appearing in this book, was nominated for an Illinois Arts Council award. Skelly has taught English at Loyola University of Chicago and Northeastern Illinois University and poetry and fiction writing at a variety of venues.
Order Distilled Lives, Volume 1, ISPS Poetry Anthology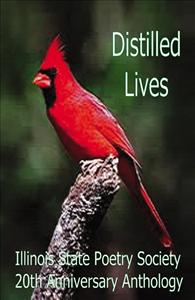 Seventy-five members of Illinois State Poetry Society have, as their 20th anniversary anthology's title promises, distilled life with its vicissitudes and revelations. Poems weave universal themes in rhyme and free verse while presenting fresh, provocative and sometimes metaphysical insights. Humor, pathos, reverie and existentialism, among other diverse tones, combine in this entertaining and insightful collection.
Sneak Peek
To Order
Order Distilled Lives, Volume 2, ISPS Poetry Anthology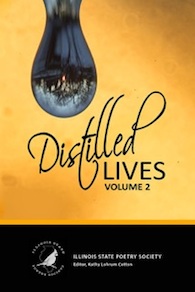 Distilled Lives, Volume 2, is a rich and diverse collection of poetry from members of the Illinois State Poetry Society. Represented in the anthology are new word-crafters alongside poets in their nineties who have been writing throughout their lives. There are first-timers as well as Pulitzer Prize and National Book Award nominee James Reiss and the prolific Joan Colby and Jacob Erin-Cilberto, each with more than a dozen volumes to their credit. You will find formal forms, poems with stylized messages, rhymed lines, and prose-poem paragraphs.The lives distilled here offer a panoply of poetic style and individual creativity, a challenging and comforting gift of words offered by eighty-one representatives of ISPS.
To Sample and Order at Amazon.com
Contact Us
If you have questions or feedback regarding this Web site, please click a link below to send an e-mail to a member of the ISPS Web Committee. We welcome your thoughts.
Web site design and maintenance by Alan Harris at