Home Page
Poetry Competition
ISPS Member Poems
Poem Index by Poet
Poem Index by Title
Poet Bios
ISPS Member Books
Submitting Poems
About ISPS
To Join ISPS
Other Sites
More ISPS Poems

A girl in a cowboy hat went horseback riding
and flirted with the wrangler from a dude ranch
where she vacationed one spring. On a signal he
took off between mesquite and cactus flowers,
his laugh rebounding from the granite cliffs.

Alone, she giggled, counted to a hundred;
then, after whispering to her pinto to watch 
for falling rocks and rattlesnakes, she slapped
its backside with the reins and trotted up
a rutted wash toward Amphitheater Canyon.

No lizards raced across the sand, no water
ran between the boulders where she eyed
his red bandana swatches draped from limbs
of Joshua trees and ocotillo shrubs	
to mark her way when the trail forked into gulches.

Then did she find her wrangler half-asleep
in meadow grass, his horse unsaddled to graze?
She gripped her pinto's ribs between her knees.
She coaxed it gently, nestled her face in its mane,
and reached a crest where the trail opened out like a bowl.


(For Prince Rogers Nelson)
As I sit here still in shock with pen in hand and tears streaming,
I can't help but wish that this was just a case of bad dreaming.
Never in a million years did I ever think
I'd be writing this,
About the man who hailed from Minneapolis,
Who gave us songs like Adore & Kiss.
I am writing this from the bottom of my heart so I definitely don't want it
     to sound like a cliché,
With that being said I won't go through your discography and rhyme anything
     with Purple Rain or Raspberry Beret.
You were given monikers like The Purple One and The Artist Formerly Known As Prince,
In my lifetime I can't recall anyone as unique as you before your arrival or since.
I remember back in the day seeing your handsome face on many teen mags,
Everyone couldn't stop talking about your hairstyles or your rags!
From 'Pop Life' came my favorite lyrics:
What's the matter with your life is the poverty 
Bringing you down is the mailman running you
'round...did he put your million dollar check in someone else's box.
Man, you did splits, twirls and push ups that seemed to go on for blocks!
I was deeply touched when I read about your philanthropical endeavors,
I remember when you reached out to help Marva Collins West Side Prepatory through
     turbulent weather.
I loved all of your collaborations with artists from Sheila E. And Chaka Khan, to
     Vanity Six
To Stevie Nicks,
From Sheena Easton to The Bangles the list goes on and on.
You introduced us to Morris Day & The Time
You jammed with the Muppets to a nursery Rhyme.
The soundtrack to Purple Rain colored most of my high school experience so to speak,
The Purple One and The Gloved One were neck and neck thrilling audiences on MTV
     each week!
Now as fans we must pay tribute to the man who took us 'Uptown' and transported us
     through time,
With his multi platinum selling album 1999.
Thanks for The Diamonds & Pearls and The Most 
Beautiful Girl In The World.
You said in life there would be Controversies abound but I know that in death
     Heaven is what you found.
Luv you, Prince.


The assignment excited my imagination;	
I eagerly chose my blindfold, embracing 
Its challenge, all its promises, as well as
The grey-haired stranger who would lead me.
My spirit opened its eyes as we set off,
My two hands in her firm and humanly soft grip
As competently she led me around the first corner
And into unknown territory.

She placed my hands on something suddenly inanimately smooth;
I stretched my fingers into a fan to feel its cool smoothness, its shape;
Then I was directed to feel a succession of objects; obeying like a child,
Still blindfolded, I first experienced them and then was told their names.

We sidled through a swinging metal doorway 
And I was aware of adding depth to the well of this walk;
We explored the public bathroom, the swinging toilet door,
Porous paper towels, the smells of soap and urine mixed.

I experienced her laughter, her sense of humor,
As she sat me on a chair that she knew
I'd think was a toilet seat! Sly wit in that grey head!
I felt giddy at her unexpected jest.

My courage was challenged but heightened
As we continued to explore a sofa, table, coin on tabletop,
Walking meanwhile around an indecipherable space,
Beyond the limits of my recall.

I felt fresh air before I knew we had passed through an open door;
Felt the warmth on my shoulder as we turned toward sunlight;
Felt the firm, imposing hardness of the sidewalk and was suddenly afraid;
Felt the reassuring softness of her body against my side as she held me
Near to reassure me in the vast, dangerous unknown of the outdoors.

The return to our classroom was quicker than expected.
The route was almost familiar; I had passed this way before.
I was almost disappointed to have the sensory adventure over;
I learned with this experience I had not only eyes, 
But other working senses for information about my world.


1: Gold Fever

Gold fever blazed across the frontier,
caucasian slaughter of red men and deer.
At the north of Bighorn a soldier was at rest,
waking up with blood dripping from his chest.
He was shot by a bullet, probably the Sioux,
the bullet hit the book in his chest pocket and flew.

2: William Fairweather

William Fairweather led a small expedition,
the Indians attacked them out of suspicion.
They took them and tied them to poles,
torturing them was the Indian's goals.
A medicine man walked up with a bush,
a white snatched the branch and gave it a push.
This caused the medicine man to have some fear,
they let the whites loose as if ghosts would appear.
Fairweather created a fortune in gold,
it made him egotistical and bold.
He loved to toss his gold in the street,
so people would grovel to grab a piece.

3: Henry Plummer, the Sheriff

Along came the sheriff, Henry Plummer,
a gunslinger able to knock out newcomers.
He was out to get revenge on Charlie Reeves,
both were looking for the gold to seize.
Both were killing the red man as a mission,
it almost turned into their own competition.
A U.S Marshall from Idaho territory,
came to take the whole town's inventory.

4: Hanging in the Gold Camps

The Plummer gang gave up in 1864;
New Year's Day was when they evened the score.
George Ives was the first to get the hangman's noose,
Ives got hung for murder and abuse.
Red Yager hung in the month of January,
he broke down in sobs, regretful to be buried.
Ned Ray cursed and clung to the rope,
his fingers never loosened, unable to cope.
Buck the barber twisted his head,
like getting a haircut, but soon he was dead.
Dutch Jon Wager asked how long it would take,
before his death and he could no longer wake.
A man with the name Clubfoot George Lane,
was as indifferent as if it were a breakfast of grain.
Jack Gallagher was dressed to the nines in beaver fur,
screaming obscenities and shouting dirty words.
George Shears, rather than just be another grump,
got in the noose, and leapt off with a big jump.
Boone Helm, a Kentucky man who ate someone's legs,
cheered for Jeff Davis as one of the last hung dregs.
"Grease" the only Mexican opened fire on his captors,
they shot him to death feeling self-righteous rapture.
Henry Plummer gave a speech before execution,
saying his soul was too wicked for retribution.
An admirer in the audience let out a sob,
so he threw her his necktie in front of the mob.
But all in all, when it came to the quest for gold,
people were murdered, guns were bought and sold.
Has the greed of our ancestors ever subsided?
The American Dream itself is often one-sided.


again
they are shouting
screaming
cursing
lying
campaigning
to be the laughing-stock
of the universe
 
disgusted
he reached for the remote
yet on second thought
decided to leave the TV on
just to remind himself
of the good news
 
no worse disasters struck last night
no hijacked airplanes
no bloody terrorist attacks
no devastating typhoons
no eruption of volcanoes
no earthquakes
no …..


First
number 
your journal
one to ten, then,
count your syllables
conforming line by line.
Next, choose a narrow subject
(there is no room to right the world).
You don't need rhyme or metered iambs.
Use simple words that fit this humble form.


her mole, a postage stamp
on a blond envelope of expression
 
the curly, unruly hair
much like her cryptic mind 
licking the seal of
 
windblown reason
she wept with the rain
 
and she was mailed to the media
ripped open letters
no privacy of skin
 
just a beautiful bare storm
sent to her rainbow
 
much too soon
 
please, would someone find a blanket?
she is getting so cold.


She has that look:

That burned out, what the hell 
am I doing at Wal-Mart
on Saturday morning
with three little kids look.

That jeez I'm tired can I just lie here 
in the aisle and take a quick nap 
before I fall apart look.

And then the oldest makes the youngest laugh.
And then the middlest says mommy I love you.

And she gets that other look.


is over —
children back to school,
leaves dropping careless
on the lawn, roses laced
with Japanese beetles.

Petunias nod
in their sad pots,
and purple coneflowers 
talk among themselves 
of their imminent demise.

The hydrangeas are sorry
to see themselves disappear, 
leaving only brown
blossom-heads ready
to hold winter. 

The hosta, humble perennial
that fills shady nooks
with pale ruffles, will soon
recoil into the earth, 
then awaken when called 

by April's rain.
How enviable their 
temporary vanishing,
their magical
resurrection.

Meanwhile, the crickets
remember only the song
of heat and darkness 
from their little room
in the hackberry bush.


(First published in Chaffin Journal)


I don't miss our second floor
four-room walk-up,
green flowered heavy drapes 
pulled open each morning, 
exposing one more day of
nuns, catechism, dread.

After school, lolling in front 
of the dappled hallway mirror
before my non-cookies-and-milk 
mother came home from work
my feet tapped out tunes 
on the bare floorboards
imagining myself on stage
wondering if the Mitchell's 
on the first floor
perceived my elegance.

Hands clasped overhead in namaste
moving my head side to side 
like a dancing cobra, 
a talent I still perform.
Just ask.

I do miss the Lone Ranger,
lunch of five White Castle sliders,
Sunday morning Danish at Latka's bakery,
dill pickles lying languid in a barrel 
at Alpert's Deli,
trinkets at Ben Franklin's five-and-dime
where no one scolded you 
reading Archie comics
sitting on the floor
with a girlfriend.


(Five Poets write about Aging, Illness,
and Mortality. Pennywise Press, 2011.)



—For Shelly Solarz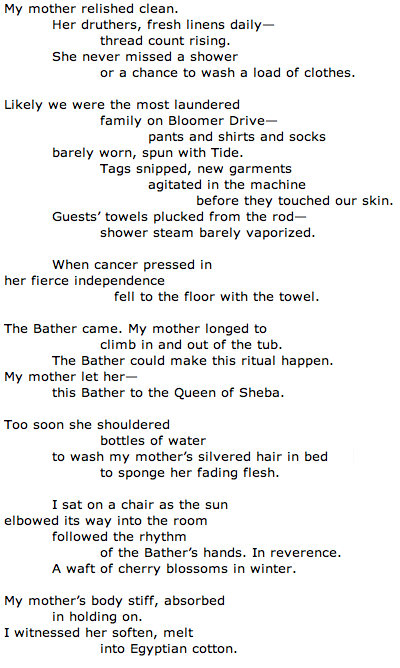 (First published on Blue Heron Review)


Just because it's today.

Just because a sun
I never touched
touched me,

and a sky I couldn't hold
held me,

and a love I didn't understand
understood me.

Just because the sun
and sky
and love
are free,

I rejoice.


Primitive drawings and
fanciful musings.

Priceless paintings.
Masterpieces, one of a kind.

Gifts constructed of paper,
created from gems.

The opus of a lifetime,
achieved in so short a time—

proof of a talented existence,
proof that you were here.

But most of all, proof
that you left this world too soon,

left me to hold these tangible items,
stained with tears of missing you.


Wings of the melancholy bird
lift his sorrowing shadow
up and away from the rutted
rivulets of the melting hillside.

Farmland silts downstream,
precious papers curl and ripple,
impermanence of place made plain,
people caught in undertows.

Sturdy wood once given life
by the Mother of Waters
swells, delaminating as it
returns to the essential element.

Verdant green foliage now
brown and yellow beneath
murky, choking mud
remembers sunshine.


(Previously published in print,
California Quarterly, Volume 42,
Number 2, 2016)


A cold and bitter January day.
Etchings of frost on fallen leaves.
The funeral was over, her coffin buried deep.  
Someone he loved, at last, at peace.

Flower baskets scattered by a cold north wind.
Long stemmed white roses began to twist and bend.

Not surprising, that he returned to check her grave.
It was nothing, compared to the time he gave,
taking her flowers, tending her place,
tracking her daily, seeking her face.
(Neighbor, teacher, mentor, a woman of grace.)

No, he wasn't her son, but he lived the part.
She wasn't his mom, but he had her heart.
She was in his mind every day.  Often stopping by.
Not much to say, just seeing eye to eye.

Then he saw me.  I was parked, where
Earlier that day I watched from afar, 
the graveside service, the final prayer,
the undertaker passing out flowers
to her loved ones there.
Tameroa, just one of six,
but so honored her coffin to bear.

He searched among the baskets.
Long stemmed white roses, (three).
He brought them to me and paused to say,
"Here, they'll just freeze anyway."

We talked a bit.
About life.
About death.
All of it.

Sometimes we hear more than what's being said.
His heart knew she's not really dead.

On his way back to the van, he stopped.  
Again, he picked white roses, just three.
He brought them to me.
He paused to gently say.
"They'll just freeze anyway."

Six white roses!
(My mind journeys back to a wedding bouquet.
White roses I held so long ago, on another cold January day)

"But, wait," (my mind imposes)
"Tameroa, these roses belong to her, on her grave."
"They'll freeze anyway."
He turns away.

This time (I think) he's going.
Moving on.  Time will pass.
He'll be okay.  
Come Spring, he'll bring her flowers,
pull the weeds, and check for new green grass,
growing here, on her grave.

But he stops once more by the basket of roses
and he brings one more, on the longest stem,
with the whitest petals.
"Here, take it.  They'll freeze anyway."

A tender white rose bud, about to bloom.
Scent of exquisite perfume.
Seven rescued roses!
They will never 'freeze anyway.'

White roses, spirit of wonder!
Departing, he says, 
"Seven is a Cherokee number."        


(lune form)
pot of beans with ham
fragrance calls
from open window


When breezes blew, sage and mint
shook seeds into the air.
They went wild, planting their offspring
in the daffodil patch, choking the mums,
filling the space between onions
and beans, leaping to the ground
beneath the gas grill.
 
Why did I allow this insurgency,
this rank attempt to take over
the garden? Perhaps because surgery
and radiation left me no energy
for coping with recalcitrance,
with over-abundance. Or perhaps
I couldn't bear to be the surgeon
cutting into something so alive.


(First published in SecondWind)


by Mary-Ann Westbrook
Elusive Erato
Let my imagination soar
Let my mind see with clarity
Inspire my soul to sing
Let my eyes see beautiful imagery
that I may pass on to others
Let my ears hear rhythm and rhyme
Let my heart have the courage 
to speak my mind
Let my mind have the sense
to speak my heart
This I ask you
to bestow on me
a humble poet


On  the  island  of  Guam  legend  tells  of  the  white
Lady  occasionally  appears  in  jungle  late  at  night,
That  was  cloudy  and  ominous  with  the  threat  of  rain
Thus  the  rain  began  to  fall  over  the  island's  terrain,   

The  drops  of  rain  resembled  florescent  Chem.  lights
Of  many  colors  as  red,  orange,  green  from  the  heights,
It  was  a  warm  and  humid  with  the  slight  ocean  breeze
As  the  Banana  plants  gently  swayed  with  such  ease,

There  in  the  middle  of  a  road  along  side  Fena  Lake
At  the  top  of  a  hill  on  the  road  a  mist  began  to  break,
To  show  an  image  of  a  Lady  with  arms  stretched  out
In  front  her  hands  that  was  beckoning  all  about,

The  Lady  wore  no  veil  as  the  clothes  were  then  floating
All  around  this  Poltergeist  as  the  Lady  began  quoting,
In  a  soft  Motherly  voice,  "I  am  the  Holy  window
Of  God,  I  am  the  Madonna  in  this  lovely  aquatic  flow,

My  vehicle  had  stalled  on  the  up  cline  and  had  ceased
To  operate  and  began  to  roll  up  the  hill  my  awe  increased,
Being  pulled  toward  the  see  through  spirit  on  the  hill  top
As  nothing  I  could  do  to  stop  the  motion  like  a  rain  drop,

Sitting  in  my  vehicle  I  saw  Miriam  to  see  I  had  desired
Upon  hearing  her  charming  voice  I  was  really  inspired,
Then  I  heard  in  my  mind  Mary's  enchanting  voice  say
"Be  kind  to  some  one  today  and  do  good  deeds  to  pray,

The  Mystical  Rose  with  her  long  flowing  snow  white  hair
In  the  soft  Tropical  wind  walked  back  into  the  jungle  on  air,

Dedicated  To:   The  people  of  Guam


the music is the same
the driving lead guitar
harmonizing keyboard
bass and mandolin
providing rhythm
 
but the sound is filtered
through pain
pain of innocent deaths
pain of differences
my family and yours
my tribe and yours
my skin and yours
 
a wound that casts
a dark pall
over our lives
mutes the music
into a dirge


heavy wind
in an unraveling nest
fledglings reconsider


Four
     square walls
and nothing more
          than a ceiling
               a floor
                     and a door
 
I had to pay
for my crime
so I had
to do time
and I was sent
away
 
Now this
is where I dwell
my personal hell
each and every
day
 
So long
in this place
can't remember
your face
or why I'm made
to stay
 
All I really know
is you made me go
when
        all
I did 
was say….
              I love you!


Foraging long ago
deep in the heart of the Bronx.

Mom & Pop food shops
corner candy stores
sweet treats 
draw my eyes     and nose
like dangling bait before me.

Do fish salivate too?

But no sweets today    oh no
....today I shun the chum
....today I put childish snacks aside
....today I follow my ethnic nose
to the deli beyond all delis.	

This is the deli where old men
get weak in the knees    drooling over
a hundred variations on a theme of herring
....a pungent promise of Paradise. 

This is the deli whose overflowing cornucopia
spills brazenly out onto the sidewalk
shoving old wooden barrels and boxes bursting with
piquant morsels     in my face      up my nose.

Is there a Michelin star for sour pickles?

Oh you nickel pickle
hiding deep in that briny barrel
....I'm coming for you! 

My body hangs over the rim
skinny arm plunging waaaay deep
sweeping aside small specimens
finally feeling squishy fullness and
gleefully hauling it to the surface.

I am Jacques Cousteau salvaging an ancient amphora!

Wafting an aroma redolent of
dark spices from mysterious islands
it is sooooooooo deliciously sour
that I can suck it like a lollypop
and my whole body puckers with delight.


(Published in 2013 edition of Journal of Modern
Poetry (JOMP-16), winning prize for Best Modern
Poem and nomination for Pushcart prize)


A cowboy hat perched atop a small boy
	Standing straight and tall toy guns on his hips
A small shaggy dog leans up against the cowboy
	Tail wagging waiting for a new adventure
Jeans patched at the knees 
	Witness to yesterday's escapades

Trees that run up the mountain
	Behind the old colonial farmhouse
Rocks to climb, forts to build
	Imagination set free in a boy's heart
Friends gather around the cowboy
	 Clad in visions of a child's imagination

At the end of the day
	The cowboy holds his cowboy hat
 A brown teddy listens quietly 
	As the cowboy shares his secrets
Tomorrow with the early sun
	A cowboy hat and toy guns on his hips
Another day to round up the bad guys 
	With trusted shaggy dog by his side


No more a hammock to bright yellow suns,
a white mesh sock hangs empty of Niger seed.
The thud of acorns hits the drive
and twig-crackling limbs snap underfoot. 
Smoke wafts up from the woods, the acrid smell
of leaves, the blue vapor of longing.
The dark comes earlier now, a chill in the air. 
Yet the soil sings of saturation, and the trees exhale
the color of champagne. In the slant light 
of late afternoon, the sun streams through the haze,
through the high windows in the house, and leans
into the single sheaf of wheat bending in its vase
as if to say, Only what vanishes and returns
stays forever.


It is the opposites
that drive home life's meaning.
The struggles of warm with cold,
black with white,
that cause these gray days of pensiveness.
It is hardship struggling for comfort
that is lost in soft couches
as we obliviate ourselves with the remote,
cheese popcorn and, maybe, a beer or two.

I have ignored my gardening tools,
allowed weeds their existence.
I forgot to snip off dead buds
to aid the others striving to bloom.
I did not water,
I did not feed,
nor prune, nor rake,
for lack of time, hounding comfort -
a ritualistic summer stagnation.

I let the green days pass.
Although I noticed them leaving,
I did not rise to say good-bye,
yet stood to watch the old leaves falling
with tears in my eyes.
"It's too late!"
I hear the yellow maples screaming.
I turn away.

The naked branches quiver
in the cold November wind
as I plod toward home
shivering in my penance.


Streets like this are made
to be underestimated, they are the
short, brown-eyed child on any
florid city map, an inch in
an atlas boasting about its miles,
Flournoy—small and silent, just a path,
barely beyond the reach of
 the roar of a commuter line,
bookended by unmarked
ramps, an overlooked street,
 a secret no one bothers to share.

I walk beneath street lights
glowing like moons, though there
are no stars there,
just dust and a maraca-like
rattle of the street gravel raised by
 the flourish of a passing car.
Flournoy is a valve in the
 heart of a complicated town,
a tiny street, a sharing space, with
 stray light spread upon the ground.


mourning dove
sings my sadness
into glory


(First published in Avocet)


I gave her hair
a hundred strokes.
Bathed her skin in Ivory soap.
Shaped her legs in nylon silk.
Covered her breasts in Victorian secrets.
Even filled the air around her in golden scents.
She still wouldn't give me
the time of day.


one empty blue shoe    one blue high heeled
executive shoe on a wash of green
by yourself you will tell no new stories

still memories drift up from your emptiness
the click clicking into the board room at 1 pm
the staccato of dancing across the country club floor
the lull of firm waiting under the ladies' bridge table

into those rooms I do not go
and you are narrow like Shipman's Creek
while my feet are wide like the Mississippi

if I could find the real blue shoe I would fill it
with silk flowers of pink and orange a crescendo
a conversation piece on my kitchen table


(Previously published in The Penwood Review)


A sun-soaked playground bench can be
the keyhole to our coming world,
as children forge their destiny
through sports and games where they portray
their futures acted out through play.

Tall Jason lofts the basketball,
his body blocking Kevin's path.
He's learned to sidestep, dodge or stall,
sound training for a financier
or corporation grenadier.

Samantha climbs the monkey bar
with saucy smile and sparkling eyes. 
Soon this became her repertoire,
first ingénue then jaded belle,
her role a fading demoiselle.

The seesaw is a shaky toy
and Billy screams its ups and downs
but no one heeds this frightened boy
who'll never master rise and fall
or learn to manage stocks at all.

More quiet is the sandbox set
exploring grottos, moats and caves
conjoined in soft Magnificat
to the unknown, the mystery
of sweet religiosity.

Here basking under summer sky
I watch posterity unfold.
Perhaps it can exemplify
a player's budding childhood trait
its future to prognosticate. 


We deeply offer our thanks
to the Deepest of Thankables
and our abiding love
to the Most Abiding of Lovables
as we gather here
in grace under grandness
humbly to eat of the earth
so that ripplings of renewal
may nurture and empower our
sweetly imperative lives.

May the sustenance we now
receive within ourselves
enable us to give out
more than we possess
as our lungs and souls
breathe more than is air
on our chosen journey
into more than we know.

We honor the One within us
while dwelling within the One.
Amen.


(From The Wheel of Yes)


More ISPS Poems
Copyright Notice: Copyrights for all of the above poems remain with the individual authors. No work here is to be reused without permission from its author. To request permission, contact a member of the ISPS Web Committee.

Note to ISPS poets: Poetry posted on the Internet may be considered "published" by some publishers and agents.